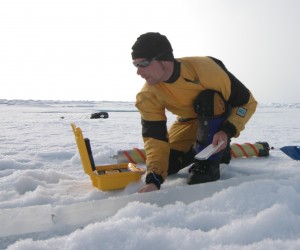 I'm a postdoctoral fellow in the Biology and Paleo Environment Division of the Lamont-Doherty Earth Observatory and a research scientist at the Blue Marble Space Institute of Science.  My research is focused on the interactions between bacteria and phytoplankton, with a particular emphases on epibiotic bacteria (bacteria attached to phytoplankton cells) and their role in the initiation, maintenance, and collapse of phytoplankton blooms.
I also have active projects related to my doctoral work on the microbial ecology of sea ice and other psychrophile habitats.  Serious requests for collaboration and discussion are welcome!
I'm in the process of migrating my UW site to a new, independent server.  Please be patient while I work out the kinks!
Click here for Google Scholar Profile
Click here for github repositories
Contact Info:
bowmanjs @ ldeo.columbia.edu
Mail:
Division of Biology & Paleo Environment
P.O. Box 1000
61 Route 9W
Palisades, NY 10964
Office:
Geosciences 205C
3653 Total Views
42 Views Today